FLOOR MODEL SALE!
If you've had your eye on a machine that's been a little out of reach, here's an opportunity to pick up a gently-used-but-not-abused floor model at a great price and with full warranty.
During the entire month of January, all floor models, from both Pfaff and Janome, sewing machines and sergers, will be specially priced so we can freshen up the floor. Quantities are limited, so don't wait to make your dreams a reality.

DON'T MAKE US COUNT IT! SALE

Yep, it's that time of year again, when we have to take stock of our stock, and we're enlisting your help. From

Monday, January 8 through Saturday, January 20,

pretty much everything in the store will be on sale:
25% off upstairs fabric, including fat quarters and pre-cuts (minimum .25m cut off the bolt);
55% off basement fabric (minimum 1m cut);
20% off all notions, books, patterns, needles, threads, battings and stabilizers;
deep discounts on specially-marked items.
It's going to be a long, cold winter, so take advantage of this great opportunity to move our stash to your stash!
PS: Once the dust settles, we'll have to count what's left, so please note that we'll be
closed on Monday, January 29
. After that, it's time to fill those shelves up again with yummy new fabrics, patterns, books and notions!


SEW A LOT AT CAMELOT!

How does a full weekend of non-stop quilting and fun sound?

Our annual In-Town Retreat is being held at Camelot Golf & Country Club from Friday, March 23 till Sunday, March 25, 2018.



Only 5 minutes east of Place d'Orleans, Camelot offers bright, spacious sewing and socializing areas with spectacular views of the Ottawa River and Gatineau Hills. Your weekend will include lots of dedicated sewing time interspersed with games, activities, prizes and surprises, along with gourmet meals and a cash bar.

We'll also offer a surprise project for Friday evening, an optional super-secret Mystery Project, optional complimentary classes, and great opportunities to meet and mingle with other quilters.



Arrive any time after 10:00 am on Friday and go home to sleep at 10:00 pm, leaving your machine and all your stuff without worry, ready for the next day's sewing. Come back from 9:00 am until 10:00 pm on Saturday, then spend from 9:00 am until 4:00 pm on Sunday.






The cost of the weekend, which includes two three-course dinners, two continental breakfasts, three lunches* and between-meal munchies, is only $460, plus HST.


Space is limited for this very popular event, so sign up early -- we don't want you to miss out!



* If you cannot arrive before 2:00 on Friday, the cost of Friday's lunch will be deducted from your registration fee.


C

RAFTY TABLES IN STOCK!




If you want to up the comfort level of your sewing, but space is an issue, why not consider getting a Crafty table? It offers several advantages:


1/ The insert is included in the purchase price;
2/ It folds up for out-of-the way storage;
3/ It has wheels for easy transport;
4/ It's economical; and
5/ It's in stock!

Have a Featherweight? You Need a Heavyweight!


Attention all collectors of vintage Featherweights! Arrow Cabinets has produced a limited-edition cabinet just for you!

It fits all 221 black machines perfectly, with no need for an insert, and arrives fully assembled ready to set your machine in at the perfect height.

Quantities are limited, just like the 221, so don't wait too long to order your machine's perfect companion.

PFAFF creative icon!
This machine has to be seen to be believed, and even after you've seen it, you won't believe it!
We met it at its launch in early October, and we were blown away by its size, its features, and its overall awesomeness. Take a look at
www.pfaffcreativeicon.com
for an enticing overview of the machine and all that it can do. Then come in to see us -- we have the icon on display and we would love to show it off!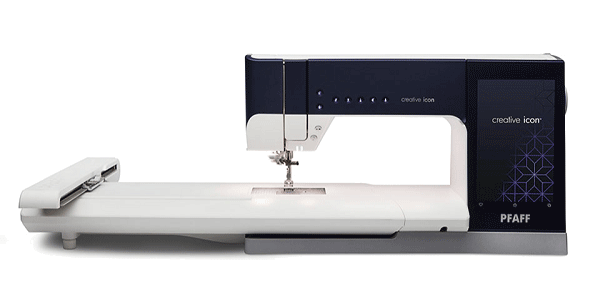 Sewing vs Driving!

The new Pfaff creative icon ™ sewing and embroidery machine is a truly remarkable, state-of-the-art piece of engineering. And, of course, this kind of quality comes at a significant cost. When the price of the icon is mentioned, the most frequent comment we hear is "I could buy a car for that!", which is true if you aren't too fussy about the model.
However, there are many reasons why you should put your money into an icon instead of a vehicle. As a public service, we have listed some of them here:
The icon has a much tinier carbon footprint than a car. It runs on thread, not gas.

Sewing machines were green before it was cool. Still are.

You can drink while driving the icon. Or text. Or watch Netflix.

You can put your pedal to the metal and not get a speeding ticket.

The icon does not require snow tires or antifreeze. And it will never get stuck in a snowbank.
No one expects you to drive them anywhere, or pick up groceries, with the icon.

You can convert your garage into a fabric vault or sewing studio, as nature intended.

Can a car embroider?

Rush hour will take on a whole new meaning, where the "rush" refers to exhilaration.

You don't have to parallel park the icon.
No seatbelts, airbags, or child restraints required. The icon's safety record is impeccable.

You can't make Christmas presents in a car. Only pollution.

The icon will take you anywhere your imagination and creativity lead you.
You're welcome. Have fun with your new Pfaff creative icon!!

FINANCING OPTIONS!


Sometimes the deals come along when the budget isn't quite ready. Did you know there are several financing options which are always available to help you in the short or longer term?


3 Months No Payment, No Interest
is always a great solution because it comes at no extra cost and is available on all machines over $500.
If you prefer Equal Payments, there are two plans from which to choose: 48 months or 60 months, each at a cost of just 8.9%. These plans are available for all machines costing over $2000.

Interested? Just ask us for details. The process is simple and will put a machine in your sewing room right when you need it.