PFAFF HOLIDAY WISH LIST FLYER!

The Flyer is in effect until Monday, December 24 with excellent pricing, some very generous rebates, a couple of nice add-ons, and very attractive financing packages. The array of machines on offer is impressive, so you'll be sure to find something that's perfect for you.
+ a
FREE EXTENSION TABLE
with the purchase of the
NEW
ambition 610
or
620
;
+ a
FREE FLOOR TABLE and insert
with the purchase of the
NEW expression 710
or
quilt expression 720
. Special financing packages are also available;
+ If you want to go really big, there's also a special gift package worth over $650 with the purchase of the
performance icon
:
+ And, if travelling is in your future, why not take along the super-portable
passport 2.0
? It's on super-special, too!

PFIND YOUR PFAVOURITE FEET -- ON SALE!


That's right, until November 30, all Pfaff and Inspira accessories, notions, feet, and software are 15% off!

That makes this the perfect month to stock up on all the goodies that make our sewing lives easier (you know those specialty feet? They're made for special reasons! There's a Pfaff Foot Book that explains it all).

And specialty feet, notions and accessories make perfect gifts for your special quilting friends.









PFAFF QUILTING EVENT!

SORRY, FULL!


Please give us your name and contact information; if a spot becomes available, we'll call you.

Want to take your quilting to a whole new level of creativity? Curious about the feet and accessories that are available to make your sewing life easier and more fun?


Join us as we welcome our newest
Pfaff Educator, Emily Baker
on
Thursday, November 22
for two sessions of fun and inspiration! She'll spark your imagination and motivate you to use your machine's features in ways you've never considered before.




The cost to attend is only $15, which will get you a goodie bag worth more than that PLUS three hours of fun! Please call to register for either the afternoon session (1:00 - 4:00 - SORRY, FULL) or the evening session (6:00 - 9:00), then get ready to look at quilting a whole new way!

FLOOR MODEL STILL AVAILABLE!
This is it! We have ONE
performance 5.2
floor model available. It's very

well priced and with full manufacturer's warranty, so let us know right away if you want it!


For more information on this fabulous machine,
click here.

NOVEMBER CABINET SALE!
Our annual November Cabinet Sale is on!


Details will follow, but it pretty much boils down to 20% off all cabinets, caddies, cutting tables, and chairs. We take orders, with prepayment, during November and take delivery in mid- to late December, just in time for Christmas.*


Click here
and
here
to get a head start on choosing your furniture!
*50% deposit required. Orders will be placed at end of day November 30; Christmas delivery not guaranteed.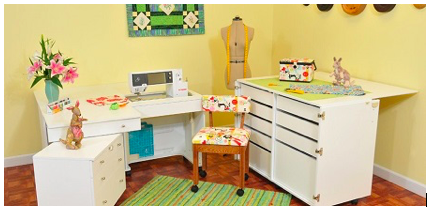 CRAFTY TABLES FOR CRAFTY PEOPLE!
If space is an issue, why not consider getting a Crafty table? It offers several advantages:


1/ The insert is included in the purchase price;
2/ It folds up for out-of-the way storage;
3/ It has wheels for easy transport;
4/ It's economical, especially while on sale; and
5/ It's in stock!

SEW STEADIER!
Once you see how wonderful it is to sew in a cabinet, you don't want to give up the extra support when you go to class or the cottage. Now you can keep the comfort with a Sew Steady acrylic extension table at a special holiday price!


Until December 13*, we're offering the large (18" x 24") table for only $149! That's a savings of $66!
*To take advantage of this special price, pre-payment is required by December 13, 2018, and we'll need your machine make and model number. Christmas delivery is highly unlikely, but we'll see!

MINGLE AND JINGLE OPEN HOUSE!
Save the date -- it's time to get your jingle on!


We'll be holding our annual
Mingle and Jingle Christmas Open House
on
Thursday, December 13, from 3:00 until 8:00.
Details to follow.

JANOME AIRTHREAD 2000D!
Does the thought of threading an overlock machine make you want to run for the hills? Well, get ready to run your serger instead, because Janome has introduced the new AT2000D AirThread Professional!
Its one-push blast air threading system takes all the pain out of threading the loopers, and the built-in needle threader takes care of the rest. Easily converts to rolled hem, too. To see more of the features of this amazing machine,
read this

.
Then come in for a demo, see how slick the threading is, and take your new machine home!

It's our pleasure to let you know that the PFAFF® creative icon™ has won the prestigious "Red Dot: "Best of the Best" design award!
The "Best of the Best" award means that the creative icon™ was deemed to be one of the best designed products globally launched in 2017. Only 69 products, or 1% of all nominated entries, have received this award. This includes products from categories as wide as lamps and garden furniture, to ships, planes and trains.
The icon has won in the category "Household appliances and household accessories". This category includes vacuums, washers and other large house hold appliances.
Congratulations to Pfaff and its fabulous
creative icon
!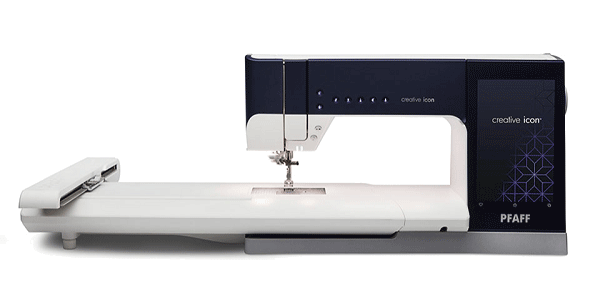 More About the Red Dot Award
The origins of the Red Dot Design Award date back to 1955. Its distinction, the Red Dot, is established internationally as one of the most sought-after quality marks for good design.

With the help of the jury, the internationally organized competition "Red Dot Award: Product Design" appraises the best products of the year. In 48 categories, manufacturers and designers can enter their innovations. The jury only awards a Red Dot to products with a high design quality. The best products of a category are awarded the "Red Dot: Best of the Best"
Attention all collectors of vintage Featherweights! Arrow Cabinets has produced a limited-edition cabinet just for you!

It fits all 221 black machines perfectly, with no need for an insert, and arrives fully assembled ready to set your machine in at the perfect height.

Quantities are limited, just like the 221, so don't wait too long to order your machine's perfect companion.
You're welcome. Have fun with your new Pfaff creative icon!!