C

RAFTY TABLES IN STOCK!




If space is an issue, why not consider getting a Crafty table? It offers several advantages:


1/ The insert is included in the purchase price;
2/ It folds up for out-of-the way storage;
3/ It has wheels for easy transport;
4/ It's economical; and
5/ It's in stock!

Have a Featherweight? You Need a Heavyweight!


Attention all collectors of vintage Featherweights! Arrow Cabinets has produced a limited-edition cabinet just for you!

It fits all 221 black machines perfectly, with no need for an insert, and arrives fully assembled ready to set your machine in at the perfect height.

Quantities are limited, just like the 221, so don't wait too long to order your machine's perfect companion.

MINGLE AND JINGLE! SAVE THE DATE!
Time to get your jingle on!
Drop by for our annual
Mingle and Jingle Christmas Open House
on
Thursday, December 14, from 3:00 until 8:00.
Enjoy some goodies and socialize with friends, get a FREE pattern (with demo) of a great last-minute gift pouch, and stock up on Christmas fabric at 25% off.
As in previous years, we will be collecting money for the Emergency Food Cupboard.
With a donation of $5 or more, we'll give you a WonderFil Specialty Threads wall calendar (while quantities last) -- it would make a wonderful gift for a Secret Sewing Sister!

We hope you'll be able to join us as we celebrate the season and thank you for another year filled with Quilty Pleasures!
Merry Christmas, and all the best in 2018!

Leslie, Val, Tamara, Amy, Valerie, Paulette, Carrie, Rachel and Anne



PFAFF FALL FLYER!


Pfaff is celebrating its 155th anniversary this year, and they're bringing the party home to you!

Of special note:
Pfaff has produced a special limited-edition

ambition 155

in a beautiful blue;
both the

expression 3.5

and

quilt expression 4.2

come with a FREE Crafty floor table (valued at $395). Out of the goodness of our own hearts, we've extended this offer to the

performance 5.2,

as well!
Great financing packages are available on all machine and cabinet purchases over $500. We can offer a variety of very attractive payment plans suited to your needs, so please see us to discuss your options.

The annual

Pfaff Fall Flyer

is in effect from

November 3 till December 24

this year, with best prices of the season!


PFAFF creative icon!
This machine has to be seen to be believed, and even after you've seen it, you won't believe it!
We met it at its launch in early October, and we were blown away by its size, its features, and its overall awesomeness. Take a look at
www.pfaffcreativeicon.com
for an enticing overview of the machine and all that it can do. Then come in to see us -- we have the icon on display and we would love to show it off!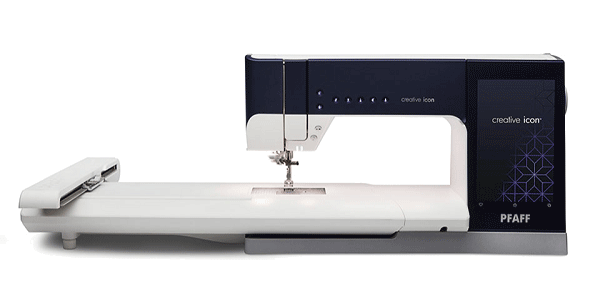 Sewing vs Driving!

The new Pfaff creative icon ™ sewing and embroidery machine is a truly remarkable, state-of-the-art piece of engineering. And, of course, this kind of quality comes at a significant cost. When the price of the icon is mentioned, the most frequent comment we hear is "I could buy a car for that!", which is true if you aren't too fussy about the model.
However, there are many reasons why you should put your money into an icon instead of a vehicle. As a public service, we have listed some of them here:
The icon has a much tinier carbon footprint than a car. It runs on thread, not gas.
You can drink while driving the icon. Or text. Or watch Netflix.

You can put your pedal to the metal and not get a speeding ticket.

The icon does not require snow tires or antifreeze. And it will never get stuck in a snowbank.
No one expects you to drive them anywhere, or pick up groceries, with the icon.

You can convert your garage into a fabric vault or sewing studio, as nature intended.

Can a car embroider?

Rush hour will take on a whole new meaning, where "rush" refers to exhilaration.

You don't have to parallel park the icon.
No seatbelts, airbags, or child restraints required. The icon's safety record is impeccable.

You can't make Christmas presents in a car. Only pollution.

The icon will take you anywhere your imagination and creativity lead you.
You're welcome. Have fun with your new Pfaff creative icon!!

SEW-STEADY!
Once you see how wonderful it is to sew in a cabinet, you don't want to give up the extra support when you go to class or the cottage. Now you can keep the comfort with a Sew Steady acrylic extension table at a special holiday price!


Until December 14*, we're offering the large (18" x 24") table with a carrying bag and shine kit for only $179! That's a savings of $75!
*To take advantage of this special price, pre-payment is required by December 14, 2017, and we'll need your machine make and model number. Christmas delivery is highly unlikely, but we'll see!

WISH LIST!
Sometimes even Santa needs a little help with finding the perfect gift for, say, a quilter, such as yourself, for example. If you have some ideas that might give him a hand, just let us know and we'll pass them along to the appropriate visitors to our shop.

And remember, your wish list isn't just for Christmas. It works just as well for birthdays, anniversaries, Mother's Day ...

We're happy to help!

THE HIATUS IS OVER!
If you missed out on some Row by Row projects, here's good news: We're allowed to bring back our 2017 Row by Row row,
This Way and That,
for purchase.

Kits, which include the pattern and all fabric necessary for the top and binding, are available for $18.99. If you want only the pattern, we have it for $9.99. We're also happy to mail these items to you for an additional postage fee. Just call us to arrange.

FINANCING OPTIONS!


Sometimes the deals come along when the budget isn't quite ready. Did you know there are several financing options which are always available to help you in the short or longer term?


3 Months No Payment, No Interest
is always a great solution because it comes at no extra cost and is available on all machines over $500.
If you prefer Equal Payments, there are two plans from which to choose: 48 months or 60 months, each at a cost of just 8.9%. These plans are available for all machines costing over $2000.

Interested? Just ask us for details. The process is simple and will put a machine in your sewing room right when you need it.