PFAFF SPRING FLYER!
Find your perfect match in the
PFAFF Spring 2018 Flyer!


Spring is the season of love, and we're always happy to play matchmaker, facilitating the meeting of sewists with their dream machines!
Not only does this spring's flyer offer great machines at great prices, there are also very attractive financing options, software specials, and a mail-in rebate available. You're sure to meet "the one" that meets your needs.
If your current machine isn't living up to your expectations, take a look at what you can expect from Pfaff. Drop by for an introduction to all of your options, then let love do the rest!

It's our pleasure to let you know that the PFAFF® creative icon™ has won the prestigious "Red Dot: "Best of the Best" design award!
The "Best of the Best" award means that the creative icon™ was deemed to be one of the best designed products globally launched in 2017. Only 69 products, or 1% of all nominated entries, have received this award. This includes products from categories as wide as lamps and garden furniture, to ships, planes and trains.
The icon has won in the category "Household appliances and household accessories". This category includes vacuums, washers and other large house hold appliances.
Congratulations to Pfaff and its fabulous
creative icon
!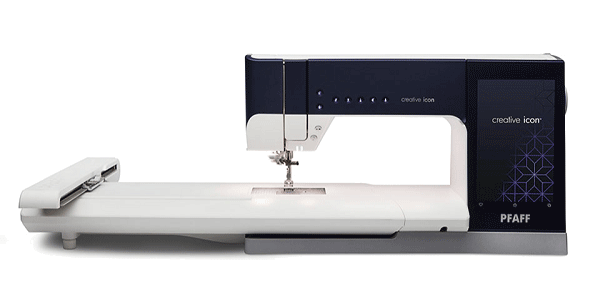 More About the Red Dot Award
The origins of the Red Dot Design Award date back to 1955. Its distinction, the Red Dot, is established internationally as one of the most sought-after quality marks for good design.

With the help of the jury, the internationally organized competition "Red Dot Award: Product Design" appraises the best products of the year. In 48 categories, manufacturers and designers can enter their innovations. The jury only awards a Red Dot to products with a high design quality. The best products of a category are awarded the "Red Dot: Best of the Best"

CAMELOT RETREAT!
We had a blast at this year's in-town retreat and everybody lived to tell the tale (although there was a lot of "What happens at retreat stays at retreat" going on!). Thanks to everyone who attended -- we hope you had as much fun as we did.
Believe it or not, we've already started thinking about next year's adventure, so stay tuned. We'll be announcing details sometime in December and we hope you'll be able to join us!
We've just created a page full of pictures featuring this year's happy Retreat participants.
Have a look!


C

RAFTY TABLES IN STOCK!




If you want to up the comfort level of your sewing, but space is an issue, why not consider getting a Crafty table? It offers several advantages:


1/ The insert is included in the purchase price;
2/ It folds up for out-of-the way storage;
3/ It has wheels for easy transport;
4/ It's economical; and
5/ It's in stock!



Have a Featherweight? You Need a Heavyweight!


Attention all collectors of vintage Featherweights! Arrow Cabinets has produced a limited-edition cabinet just for you!

It fits all 221 black machines perfectly, with no need for an insert, and arrives fully assembled ready to set your machine in at the perfect height.

Quantities are limited, just like the 221, so don't wait too long to order your machine's perfect companion.

PFAFF creative icon:
Sewing vs Driving!
The new Pfaff creative icon ™ sewing and embroidery machine is a truly remarkable, state-of-the-art piece of engineering. And, of course, this kind of quality comes at a significant cost. When the price of the icon is mentioned, the most frequent comment we hear is "I could buy a car for that!", which is true if you aren't too fussy about the model.
However, there are many reasons why you should put your money into an icon instead of a vehicle. As a public service, we have listed some of them here:
The icon has a much tinier carbon footprint than a car. It runs on thread, not gas.

Sewing machines were green before it was cool. Still are.

You can drink while driving the icon. Or text. Or watch Netflix.

You can put your pedal to the metal and not get a speeding ticket.

The icon does not require snow tires or antifreeze. And it will never get stuck in a snowbank.
No one expects you to drive them anywhere, or pick up groceries, with the icon.

You can convert your garage into a fabric vault or sewing studio, as nature intended.

Can a car embroider?

Rush hour will take on a whole new meaning, where the "rush" refers to exhilaration.

You don't have to parallel park the icon.
No seatbelts, airbags, or child restraints required. The icon's safety record is impeccable.

You can't make Christmas presents in a car. Only pollution.

The icon will take you anywhere your imagination and creativity lead you.
You're welcome. Have fun with your new Pfaff creative icon!!

FINANCING OPTIONS!


Sometimes the deals come along when the budget isn't quite ready. Did you know there are several financing options which are always available to help you in the short or longer term?


3 Months No Payment, No Interest
is always a great solution because it comes at no extra cost and is available on all machines over $500.
If you prefer Equal Payments, there are two plans from which to choose: 48 months or 60 months, each at a cost of just 8.9%. These plans are available for all machines costing over $2000.

Interested? Just ask us for details. The process is simple and will put a machine in your sewing room right when you need it.