CELEBRATE SEWING!
September is National Sewing Month, which is the kind of holiday we can get behind -- no special meals to cook, no decorating to do, no gifts to buy. Unless you'd like to ...

1. Cook up some special sewing projects;
2. Decorate your machine with some sparkling new bling;
3. Give yourself the gift of easier sewing.

During the entire month, until September 30, 2019, we'll help you with that because all Pfaff and Inspira accessories and notions are 20% off!

So if you've been thinking of feet, stabilizers, hoops, extension tables -- now's the time to treat yourself. Happy National Sewing Month!

PS There are other ways to celebrate, too. Machines, of course, will be specially priced AND we'll be giving away FREE VANTAGE SUPPORT* with the purchase of software. Now that's a celebration!

* One free year with the purchase of Premier +2 Extra and two free years with the purchase of Premier +2 Ultra

A WHEELY GOOD DEAL -- WE'RE DOWN TO ONE!


Quilters on the move appreciate a good, solid trolley to transport their machines, which is why Tutto trolleys are so popular.

For the past couple of weeks, we've had the large Tutto trolley specially priced at $229 (reg. $299), and the response has been great. So great, in fact, that they're almost all gone!

We have one left, in red.

So if you have a zeal for wheels, come in now! Large enough to hold a Pfaff expression machine, with room to spare for fabric and notions, this trolley will fit the bill, as well as all your stuff!

PFAFF PFEATURED PFOOT!
Sometimes we think a sewing machine is like a millipede -- it has SO MANY FEET! And they all have certain attributes that can make your life much more pleasant.
In our continuing series, this month's featured feet are the various
Free Motion Feet
. Discover how to use them by
clicking here
, then try them out. Free motion won't be scary anymore!
PS For complete instructions on using all of the Pfaff feet, we recommend
The Pfaff Foot Book
by Country Stitches. We have it here at Quilty Pleasures.

WHAT IS MYSEWNET?
mySewnet™ Cloud is, in essence, a service where you save and access your personal files, stitches and designs over the Internet instead of on your computer's hard drive. Your files in mySewnet™ Cloud can be saved and accessed from different synched devices such as your mySewnet™- enabled machine, your PC or Mac, your smart phone, or your tablet via mySewnet™ apps. And it lets you do so many things!

By visiting the mySewnet™Portal, you can access your own profile information, user account settings, machine information, subscription options and online cloud file management. It is easily accessible from anywhere with an Internet connection, including mac computers. Sign up for SewNotice, an app that lets you monitor your embroidery stitch-out progress via notifications on your smart phone. Get notifications when you're out of thread, ready to change colors, and when your design is done. Or take a look at ImageStitch, an app that allows you to take a photo and quickly create an embroidery design with it. Save the design to your mySewnet™ Account to be synchronized to your machine.

Even if you don't have an embroidery machine, you'll love CreatorCue, an app that allows you to view step by step tutorials for various sewing techniques on your tablet or smart phone. It also includes instructions for projects and handy information about stabilizers, with more content being added all the time.


For instructions on registering for mySewnet, click here. To download CreatorCue, click here. Then have fun!


CRAFTY TABLES FOR CRAFTY PEOPLE!
If space is an issue, why not consider getting a Crafty table? It offers several advantages:


1/ The insert is included in the purchase price;
2/ It folds up for out-of-the way storage;
3/ It has wheels for easy transport;
4/ It's economical, especially while on sale; and
5/ It's in stock!

JANOME AIRTHREAD 2000D!
Does the thought of threading an overlock machine make you want to run for the hills? Well, get ready to run your serger instead, because Janome has introduced the new AT2000D AirThread Professional!
Its one-push blast air threading system takes all the pain out of threading the loopers, and the built-in needle threader takes care of the rest. Easily converts to rolled hem, too. To see more of the features of this amazing machine,
read this

.
Then come in for a demo, see how slick the threading is, and take your new machine home!

It's our pleasure to let you know that the PFAFF® creative icon™ has won the prestigious "Red Dot: "Best of the Best" design award!
The "Best of the Best" award means that the creative icon™ was deemed to be one of the best designed products globally launched in 2017. Only 69 products, or 1% of all nominated entries, have received this award. This includes products from categories as wide as lamps and garden furniture, to ships, planes and trains.
The icon has won in the category "Household appliances and household accessories". This category includes vacuums, washers and other large house hold appliances.
Congratulations to Pfaff and its fabulous
creative icon
!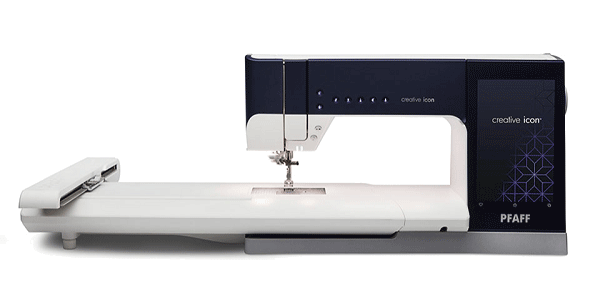 More About the Red Dot Award
The origins of the Red Dot Design Award date back to 1955. Its distinction, the Red Dot, is established internationally as one of the most sought-after quality marks for good design.

With the help of the jury, the internationally organized competition "Red Dot Award: Product Design" appraises the best products of the year. In 48 categories, manufacturers and designers can enter their innovations. The jury only awards a Red Dot to products with a high design quality. The best products of a category are awarded the "Red Dot: Best of the Best"



Have a Featherweight? You Need a Heavyweight!


Attention all collectors of vintage Featherweights! Arrow Cabinets has produced a limited-edition cabinet just for you!

It fits all 221 black machines perfectly, with no need for an insert, and arrives fully assembled ready to set your machine in at the perfect height.

Quantities are limited, just like the 221, so don't wait too long to order your machine's perfect companion.

PFAFF creative icon:
Sewing vs Driving!
The new Pfaff creative icon ™ sewing and embroidery machine is a truly remarkable, state-of-the-art piece of engineering. And, of course, this kind of quality comes at a significant cost. When the price of the icon is mentioned, the most frequent comment we hear is "I could buy a car for that!", which is true if you aren't too fussy about the model.
However, there are many reasons why you should put your money into an icon instead of a vehicle. As a public service, we have listed some of them here:
The icon has a much tinier carbon footprint than a car. It runs on thread, not gas.

Sewing machines were green before it was cool. Still are.

You can drink while driving the icon. Or text. Or watch Netflix.

You can put your pedal to the metal and not get a speeding ticket.

The icon does not require snow tires or antifreeze. And it will never get stuck in a snowbank.
No one expects you to drive them anywhere, or pick up groceries, with the icon.

You can convert your garage into a fabric vault or sewing studio, as nature intended.

Can a car embroider?

Rush hour will take on a whole new meaning, where the "rush" refers to exhilaration.

You don't have to parallel park the icon.
No seatbelts, airbags, or child restraints required. The icon's safety record is impeccable.

You can't make Christmas presents in a car. Only pollution.

The icon will take you anywhere your imagination and creativity lead you.
You're welcome. Have fun with your new Pfaff creative icon!!

FINANCING OPTIONS!


Sometimes the deals come along when the budget isn't quite ready. Did you know there are several financing options which are always available to help you in the short or longer term?


3 Months No Payment, No Interest
is always a great solution because it comes at no extra cost and is available on all machines over $500.
If you prefer Equal Payments, there are two plans from which to choose: 48 months or 60 months, each at a cost of just 8.9%. These plans are available for all machines costing over $2000.

Interested? Just ask us for details. The process is simple and will put a machine in your sewing room right when you need it.