WE HAVE (SOME) MACHINES!


Our machine shelves have been virtually empty for quite awhile now, so imagine our joy when the UPS truck arrived yesterday!
We now have
Pfaff passport 2.0's, passport 3.0's, and ambition 610's
and
one 630
available, but probably not for long, so grab 'em while we've got 'em!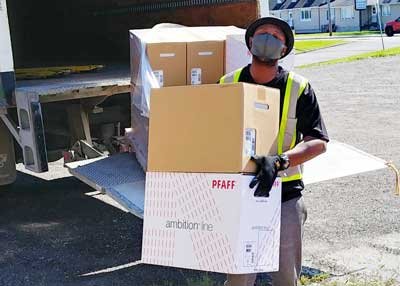 20% OFF PFAFF ACCESSORIES!


The coming of autumn means more time for sewing, and now's the perfect time to stock up on all the feet and accessories you need to make the job easier and more fun!
From now until September 28, 2020, all Pfaff-and Inspira-branded feet, notions, and accessories are 20% off, whether in stock or ordered*.
So take a look at the
Pfaff accessory catalogue
to make your wish list, then call us to make it all come true.
*Prepayment required for special orders.

CABINET SALE!


Has sewing endless quantities of masks given you a pain in the neck? Or shoulders? Back? Lower?
See what a difference the right cabinet can make! With your machine at the correct height, and your work fully supported, you'll find immediate relief from physical discomfort. And the good looks and extra storage will help your mental health, too.
From now until September 30, 2020, all Arrow and Kangaroo sewing cabinets, cutting tables, storage units and chairs are specially priced!*
It's the perfect opportunity to configure your sewing studio just the way you want, letting you sew just the way you want. In comfort and style.
Take a look on our
shopping page
to see what's available. Then call us to discuss options and prices.
* Orders must be secured with a 50% deposit;
Most cabinets are available either fully assembled or ready to assemble, but some are RTA only;
Delivery expected by mid-October (but time could vary).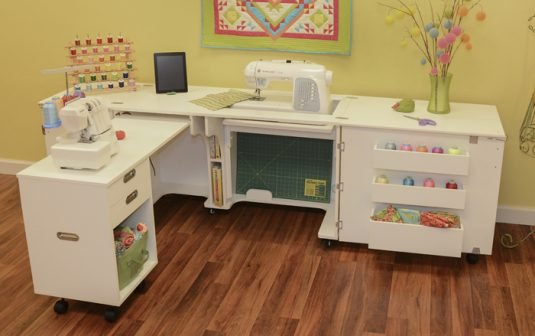 LOYALTY DOES HAVE ITS...!
Implementing an on-line shopping platform has necessitated a number of changes around here. One of the biggest is our new POS system, which won't affect you too much in your day-to-day shopping with us, but it does change how our loyalty programme works.

In a nutshell, the new system gives you a $10 coupon good for 90 days for every $250 you spend in the store. Still pretty rewarding!

NANA CAUGHT A BUG!
Here's a timely message, written by one of our very own customers for all of the young children in our lives.

Laurelle Callaghan is well-known within the local quilting community. She's also a retired chaplain in the Canadian Armed Forces, so she has ample experience in helping families with difficult situations.


It's no surprise, then, that she turned her own experience with COVID-19 into a picture book that helps kids and their parents deal with the realities of life during this pandemic. Told from the viewpoint of a six-year-old, the story's serious content is blended with a healthy dose of humour, making it perfect for encouraging family discussions about a troubling topic.
The book is only $20 (shipping and handling included) and may be ordered
directly from Laurelle
at
grumpabooks@gmail.com
.

ANOTHER SHOPPING OPTION!
Maybe you remember meeting Barry Jenkins, our TrendTex sales rep, at our Christmas open house last year. He's pretty memorable, but we know you were really blown away by all the fabrics he showed you.

Well, we aren't in a position to order every fabric TrendTex sells, but now you have an exciting opportunity to shop directly from their warehouse! This will give you access to a huge inventory of Moda, Benartex, RJR, Hoffman California, Stof, Michael Miller, and Lewis & Irene collections!
Here's how it works:
Starting on June 22,
1/ Visit
shop.trendtexfabrics.com
to, well, shop;
2/ At checkout, enter the code
QUI102
This gives us a portion of the sale, keeping your dollars local;
3/Shipping is $15 for all orders under $149, and free for orders of $149 and over.
This is a unique programme and we're excited to be a part of it, so please give it a go. It's always disappointing for us when a customer requests a fabric we don't have, but this gives you another way to buy exactly what you want.
It's easy, it's fun, and it's fabric. All good!

MORE GOOD NEWS! TLC FOR YOUR MACHINE!

We know that all of you are sewing full-tilt, making masks and other PPE for family and friends. And we also know that a lot of your machines are having trouble keeping up.
We're now accepting machines for
servicing!
You may drop off your machine during our regular in-store shopping hours. Please include the power cord and foot control, the zigzag foot, and the bobbin case with bobbin. Keep all extra feet and accessories, thread, manuals, etc (ie, anything we can lose!) safe at home with you. And please wipe off the machine with a Lysol wipe, or similar, and we'll return the favour when your servicing is completed.


Take a look in your wallet and junk drawer. A GOOD look.

If you see a Quilty Pleasures gift card, bring it in. If it has a balance on it, you can spend it like cash on whatever we sell. Fabric, notions, classes, tune-ups ... spend your cards to add to your stash!

Those cards aren't doing any good sitting at home, so redeem them now and buy some fun!



ADMIRE AIR 5000
!

It's been a long time coming, and now the wait is over. Pfaff has launched their new
admire air 5000
jet air 4-thread serger!

With several optional accessories available (utility feet kit, embellishment feet kit, wheeled travel trolley), and very attractive financing, this machine is well worth the wait. Drop by the store and take a look!

WHAT IS MYSEWNET?
mySewnet™ Cloud is, in essence, a service where you save and access your personal files, stitches and designs over the Internet instead of on your computer's hard drive. Your files in mySewnet™ Cloud can be saved and accessed from different synched devices such as your mySewnet™- enabled machine, your PC or Mac, your smart phone, or your tablet via mySewnet™ apps. And it lets you do so many things!

By visiting the mySewnet™Portal, you can access your own profile information, user account settings, machine information, subscription options and online cloud file management. It is easily accessible from anywhere with an Internet connection, including mac computers. Sign up for SewNotice, an app that lets you monitor your embroidery stitch-out progress via notifications on your smart phone. Get notifications when you're out of thread, ready to change colors, and when your design is done. Or take a look at ImageStitch, an app that allows you to take a photo and quickly create an embroidery design with it. Save the design to your mySewnet™ Account to be synchronized to your machine.

Even if you don't have an embroidery machine, you'll love CreatorCue, an app that allows you to view step by step tutorials for various sewing techniques on your tablet or smart phone. It also includes instructions for projects and handy information about stabilizers, with more content being added all the time.


For instructions on registering for mySewnet, click here. To download CreatorCue, click here. Then have fun!


JANOME AIRTHREAD 2000D!
Does the thought of threading an overlock machine make you want to run for the hills? Well, get ready to run your serger instead, because Janome has introduced the new AT2000D AirThread Professional!
Its one-push blast air threading system takes all the pain out of threading the loopers, and the built-in needle threader takes care of the rest. Easily converts to rolled hem, too. To see more of the features of this amazing machine,
read this

.
Then come in for a demo, see how slick the threading is, and take your new machine home!

It's our pleasure to let you know that the PFAFF® creative icon™ has won the prestigious "Red Dot: "Best of the Best" design award!
The "Best of the Best" award means that the creative icon™ was deemed to be one of the best designed products globally launched in 2017. Only 69 products, or 1% of all nominated entries, have received this award. This includes products from categories as wide as lamps and garden furniture, to ships, planes and trains.
The icon has won in the category "Household appliances and household accessories". This category includes vacuums, washers and other large house hold appliances.
Congratulations to Pfaff and its fabulous
creative icon
!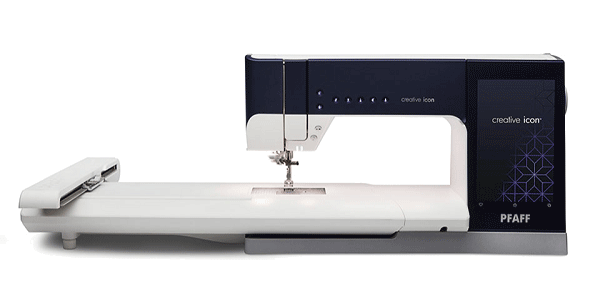 More About the Red Dot Award
The origins of the Red Dot Design Award date back to 1955. Its distinction, the Red Dot, is established internationally as one of the most sought-after quality marks for good design.

With the help of the jury, the internationally organized competition "Red Dot Award: Product Design" appraises the best products of the year. In 48 categories, manufacturers and designers can enter their innovations. The jury only awards a Red Dot to products with a high design quality. The best products of a category are awarded the "Red Dot: Best of the Best"