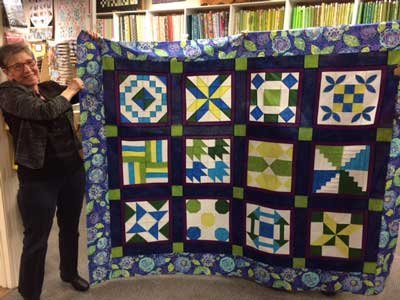 Anne-Marie 2019-Q1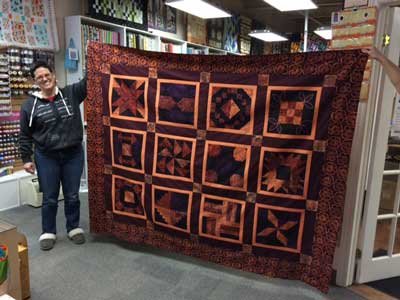 Annie 2019-Q1
Heather 2019-Crazy Quilt
Mireille 2019-Q1
Solange 2019-Q1
Eve S 2019-One-Block-Wonder
Donna 2019-Stained Glass (in-progress)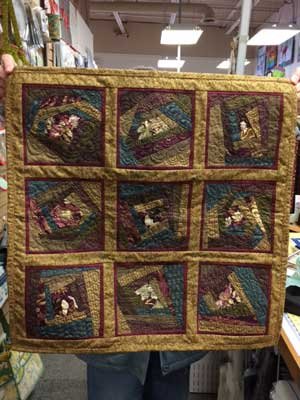 Lucy 2019-Crazy Quilt
Norma 2019-One-Block-Wonder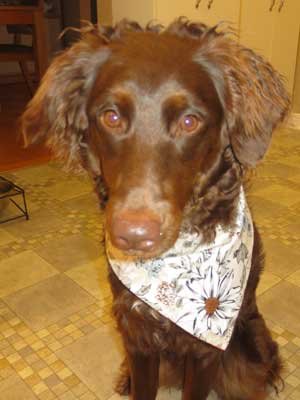 Melanie 2019
Here is Daisy, enjoying her daisy bandana
(reversible, no less, I don't mess about when I dog-sit). Thanks for the fabric suggestions.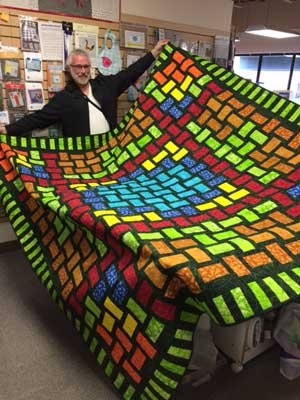 John 2019
Jean P 2019
Hi Ladies. Here's my quilt which earned me 3rd place ribbon at the Vermont Quilt Festival. Enjoy
René L 2019
Hi...I recently took the Duffle Bag class with Valerie.

Would you be so kind and let Valerie know that I entered the bag in the Navan Fair Homecraft competition (Men only category) and it won First place!

Thank you, Valerie.
René L 2019
Traci and Toni 2019
Hello QP Ladies. Wanted to share our second project using the quick curve mini ruler. Toni and I really enjoyed the class and we're having fun using the ruler!!! Thank you, Toni and Traci
Traci and Toni 2019
Good afternoon ladies of QP. Just wanted to show you our finished projects and what life is like on a Toni/Traci quilt retreat!!! 😝 Enjoy your week ladies!!
Please share with Tamara and Val
Traci and Toni 2019
Traci and Toni 2019
Diane Q 2019
Ta-da!

OMG I learned SO MUCH!!! I'm looking forward to quilting my creation.

Now I'm going to practice what I learned so that I'll be comfortable when I take the Quilting 2 class.

Please pass along to Valerie: I discovered that the corners line up so much better when the seams are nested

Diane
Fran T 2019
This email is intended for Valerie Lutes.

Hi Valerie,

Here's my finished border.

"I like it"! Glad you talked me into it.
Will show you the finished product when all quilted.

Take care!

Fran