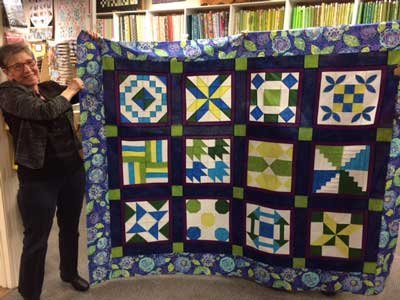 Anne-Marie 2019-Q1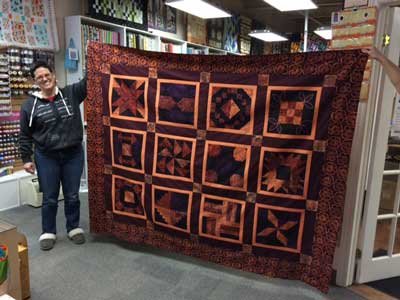 Annie 2019-Q1
Heather 2019-Crazy Quilt
Mireille 2019-Q1
Solange 2019-Q1
Eve S 2019-One-Block-Wonder
Donna 2019-Stained Glass (in-progress)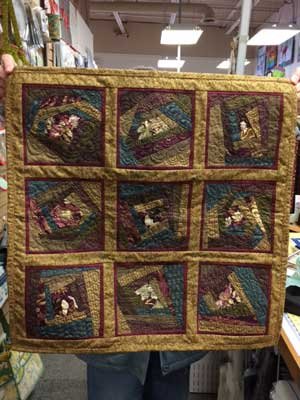 Lucy 2019-Crazy Quilt
Norma 2019-One-Block-Wonder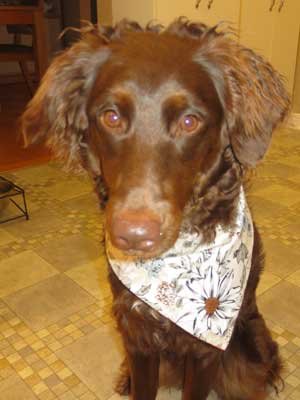 Melanie 2019
Here is Daisy, enjoying her daisy bandana
(reversible, no less, I don't mess about when I dog-sit). Thanks for the fabric suggestions.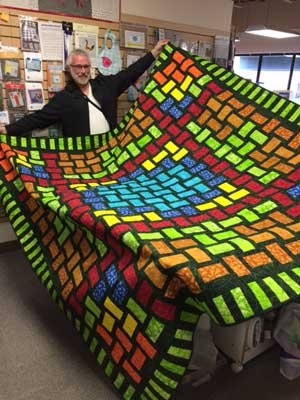 John 2019
Jean P 2019
Hi Ladies. Here's my quilt which earned me 3rd place ribbon at the Vermont Quilt Festival. Enjoy
René L 2019
Hi...I recently took the Duffle Bag class with Valerie.

Would you be so kind and let Valerie know that I entered the bag in the Navan Fair Homecraft competition (Men only category) and it won First place!

Thank you, Valerie.
René L 2019
Traci and Toni 2019
Hello QP Ladies. Wanted to share our second project using the quick curve mini ruler. Toni and I really enjoyed the class and we're having fun using the ruler!!! Thank you, Toni and Traci
Traci and Toni 2019
Good afternoon ladies of QP. Just wanted to show you our finished projects and what life is like on a Toni/Traci quilt retreat!!! 😝 Enjoy your week ladies!!
Please share with Tamara and Val
Traci and Toni 2019
Traci and Toni 2019
Diane Q 2019
Ta-da!

OMG I learned SO MUCH!!! I'm looking forward to quilting my creation.

Now I'm going to practice what I learned so that I'll be comfortable when I take the Quilting 2 class.

Please pass along to Valerie: I discovered that the corners line up so much better when the seams are nested

Diane
Fran T 2019
This email is intended for Valerie Lutes.

Hi Valerie,

Here's my finished border.

"I like it"! Glad you talked me into it.
Will show you the finished product when all quilted.

Take care!

Fran
Isolation sewing 😊
These pieces have been done since the Pandemic has been called. Lots of UFOs are being completed!!.
The 2 large quilt tops are for Victoria Quilts. I'll quilt them once I have backing and batting. The head bands are for my grand-daughters for their Easter basket. The alphabet one is for CHEO.
All's good. Nice to purge my stash. All the more room to stock up once things return to normal. Happy quilting!! 😷 Kathryn
Kathryn W 2020
Kathryn W 2020
Kathryn W 2020
Kathryn W 2020
Kathryn W 2020
This week it's been placemats! Sets of 4.
Naomi YG 2020
My latest experiments
Donna C 2020
Top is finished-hand stitched it all except for the sashing seams. Whew 😅 Donna

----------------------
Dear folks at QP.

I am hoping you enjoy this. This is the fabric I won at your open house with the TrendTex representative.

Thank you so much for all your help and encouragement.

The pattern is Turning Twenty Again.

Trusting you are all healthy.

Janet
Janet C 2020-Turning Twenty Again
Good morning QP.

I wanted to share my thanks to Tamara for helping pick out the various grunge fabrics for the challenge quilt exercise with the Common Thread Quilt Guild. This was my first foray into foundation paper piecing and I had no clue as to what and how much fabric to purchase. Tamara took me to the basement and we choose almost all of the grunge fabric found. It was a perfect amount. This will be a Queen size quilt.

Thank you Tamara and Quilty Pleasures for making all aspects of quilting a pleasurable experience.

Susanne
Susanne M 2020
Kristy Joy S 2020 - Pillows
The fabric suggestions that you made are super! They look gorgeous in our green and grey living room. Many thanks. Kristy
I've used a number of techniques: paper piecing (very detailed!), crazy quilt (The Grinch) and regular piecing. Enjoy!

I'm very proud of them, so no problem if you wish to include them in show and tell. Take care.

Ginette


Ginette B 2020 - Paw Patrol
Ginette B 2020 - Grinch
Ginette B 2020
Ginette B 2020
Ginette B 2020 - Whales
A while ago you gave me these fat quarters. Danie and I each did a quilt, the same but oh so different. The 'orange peel' has been laser cut and machine appliquéd.

Thank you on behalf of Victoria's Quilts, and thank you from Danie and me. We did these remotely but together and we are both happy with the results.

Stay safe

Janet


Janet C and Danie 2020
Janet C and Danie 2020
Sherrill C 2020