KellyC 2021
KellyC 2021 (back)
KellyC 2021 Owl
GinetteB 2021 Happy Valentines
Ta da. Another PhD finished. Thank You guys for making Covid bearable and winter in Canada bearable in 2021. Cheers, Kelly
Day to all quilters and sewers!
KellyJ 2021 Bag
I just wanted to thank everyone there for helping me with my projects. Last year my mom bought me a Passport 3.0 and I found your store. I signed up for a bag class and the binding class which both got cancelled. You helped me choose fabric for all of
KellyJ 2021 Giraffe
KellyJ 2021
KellyJ 2021 Advent Calendar
these projects and answered my questions over the phone. I just wanted to show you the finished projects and to say THANK YOU. You are not the closest shop to me by far, but you are the best so I travel to you. I am so glad I found you. With gratitude, Kelly
A continuing thank you for keeping my book on your website. I still get orders from it. For example, this week I got three! Thanks again.
Also here are the pictures that I didn't attach the other day.
The elephant is from a course at QP. The dinosaur is mostly from my head and uses basement fabric. The unicorn is my mind gone crazy and a pic from a colouring book. L
LaurelleC 2021 Ellie's Elephant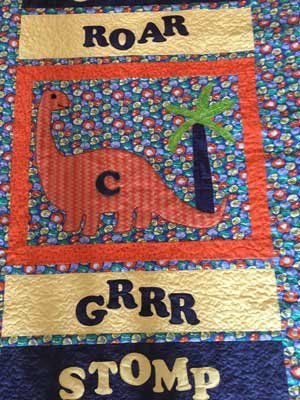 LaurelleC 2021 Cam's Quilt
LaurelleC 2021 Harper's Unicorn
Hello ladies.

Thought I'd share a photo of a quilt I made using the beautiful Moody Bloom fabric that you carry + the backing/ batting. I was dreaming of spring! This a queen - mystery project - pattern design by Melissa Marginet - fm quilted in swirls.

Regards. Susanne


SusanneM 2021 Moody Bloom Quilt
Hello ladies,

My Canada quilt was Inspired by Diane Milani's 1998 pattern ´Windows Across Canada ´. However, I added Nunavut, which became a Territory after 1998. I also did appliqué instead of paper piecing and added decorative stitches. It was necessary to take two pictures to include Ontario and Québec on the bottom. I hope you like it!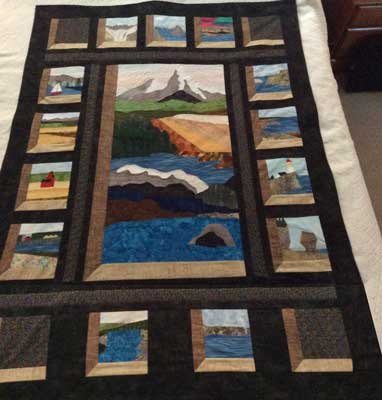 GinetteB 2021 Windows Across Canada - plus
When I picked up my order this morning for some more of the Robert Kaufman ombre fabrics - which I adore - I was saying that I had previously used a number of them to make myself a tablecloth. It was my first foray into graffiti quilting but I was pretty happy with the results. In case you would like to add this to your gallery, I've attached a photo of the finished quilt in situ as well as a close-up of one of the happy details.

Thank you to Quilty Pleasures for doing so much to maintain the sanity of so many quilters in these trying times. A day without creating something is such a wasted day.

Best regards,

Shirley Londry
ShirleyL 2021 Ombre Love
ShirleyL 2021 Ombre Love - Detail
Hi Amy,

When i bought this pattern, you mentioned not having had a chance to see it yet, so i thought you might appreciate my version of it.

Have a great weekend.

Gisèle PB
GiselePB 2021 - Wind-Drifter
SusanC 2021 - Fiesta
Here is the quilt I made from some of your fabrics that Amy helped me choose. Love the look and Michele Gagne's quilting sets it off.I need to come to your store when it is allowed to buy fabric for a baby quilt! Susan
SusanC 2021 - Fiesta (Detail)
KellyC 2021
Attention Amy,

I wanted to share my finished quilt with you. I absolutely love the fabrics you helped me pick out recently. This is my third quilt and my first HST quilt. I had a bit of a learning curve. :)

Also, attached is my first baby quilt (navy & white) which you also assisted me with back in 2019. This was an abstract design that I created.

Thank you for your help. You have great taste. :)

Cheers, Laurie
LaurieM 2021 Elizabeth Quilt
LaurieM 2021 Catherine Baby Quilt
JosianeG 2021 Throw Quilt
SusanC 2021 Christmas in July
Here is a quilt top I made on a virtual retreat last month. Julie helped me select some of the fabrics. Susan
Please find attached my finished quilt!

I started the quilt with you in class session just before Covid-19 restrictions and lockdowns.
I am very glad I had this project to do during those lockdowns. It's very cool to see the final product. My son loves it.
Thanks lots to the support from Quilty Pleasures.

Till the next course

Claire P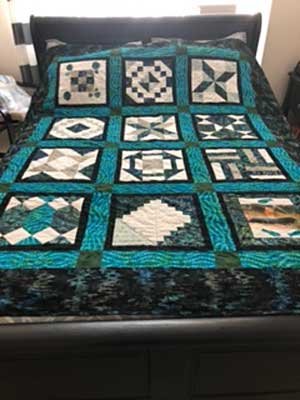 ClaireP 2021
ClaireP 2021 (Detail)
Vic 2021 - Kitty Quilt
Heres something that I did a few years back. Took the remaining blocks of a quilt and made a kitty quilt which sits on a kitty bed. Yes the cat has her own bed. It was practice when I got the Amibiton Pfaff 155 machine. Enjoy! Vic



Year