Our annual In-Town Retreat was held at Camelot Golf & Country Club from Friday, March 18 till Sunday, March 20, 2016. Only 5 minutes east of Place d'Orleans, Camelot offers bright, spacious sewing and socializing areas with spectacular views of the Ottawa River and Gatineau Hills, along with gourmet meals and a cash bar. We provided mini-classes, games, prizes and surprises, with, of course, lots of dedicated sewing time.
Quilters arrived any time after 10:00 am on Friday and went home to sleep at 10:00 pm, leaving their machines and all their stuff without worry, ready for the next day's sewing. They came back from 9:00 am until 10:00 pm on Saturday, then spent from 9:00 am until 4:00 pm on Sunday. The weekend included two three-course dinners, two continental breakfasts, three lunches and between-meal munchies.



Amy has put some pictures of the event on our Facebook! page! Make sure you scroll down to see all her entries.


BRIGITTE HEITLAND'S VISIT IN PICTURES! [October 2015]
Brigitte paid
us a return visit recently and entertained two classes at Camelot Golf and Country Club. Here's a link to our two corresponding pages of photos!

LOUISE F AND HER CHRISTMAS CREATIONS!
On 09/12/2015 10:37 AM
Louise F wrote:
Hello Ladies,
As promised to Joan, please find attached my beautiful Xmas Panel. It was a joy to assemble and I would like to thank all of you who shared in my sewing venture of this panel with lights.
Ladies, you are the best!
Wishing you a nice day,
Louise


December-09-15 11:25 AM
May I also wish you, Leslie and your staff a very Merry Christmas and a most delightful holiday season with your family and friends and a most prosperous New Year in 2016! Special greetings to Amy who has been a most kind, personable, service-oriented par excellence, not the least, a most talented young lady with a smile that lights up a room. I still remember saying to her, "Amy, you must have a Mother that taught you so well on fabrics and quilting, etc….to which she said, "My Mother is Val". I am grateful for all your wonderful staff who are most courteous and service-oriented par excellence. I always appreciate their patience with me as I worked through my learning curve (and continue to do so) in the past year. I am always made to feel welcome by all staff, yourself and Leslie.
Thank you again,
Louise
Ps I attach a stocking I made for my grand-daughter, fabrics pulled together by a most talented Tammy and inspiration to make a stocking from a most talented Paulette. I have a stocking made except for the embroidery that will be done once we welcome the new baby sometime soon.

#1 PFAFF DEALER IN ONTARIO!

We had a visit from our Pfaff Regional Sales Representative, Sandy Morry, and she surprised us with the #1 Dealer Award 2014 for Ontario!
Of course, we feel very honoured to receive this recognition, but we have to share the credit. First of all, Pfaff makes a line of products that we love and love to promote, with quality second to none. And our customers (that's you!) know that sewing on a Pfaff is an exceptional experience, one to which they are extremely loyal.
On behalf of Pfaff and ourselves, thank you for your continued support. Drop by to see your plaque!



PUZZLED! [June 2015]
Piecing a quilt is very much like solving a puzzle. So it's no wonder that the delegates to the International Puzzle Party brought along their quilting wives when they convened in Ottawa this summer.

The IPP is a convention of mechanical puzzle enthusiasts from all over the world. As part of the spouses' program, a tour of local quilt and yarn shops was organized, and we were lucky enough to be included as the final stop. As you can see from the picture, these girls were a fun bunch, coming from seven different countries (Canada, US, England, Northern Ireland, Israel, South Africa, and Taiwan), and the party started as soon as their bus pulled up outside the store!
Thanks for dropping by, ladies! It was lovely to meet you!




BRIGITTE HEITLAND'S VISIT! [June 2014]
Purely by great good fortune, Brigitte Heitland, the designing force of Zen Chic fabrics and patterns, was able to join us for an almost-impromptu trunk show after Quilt Market. We have long been fans of her designs, which are fresh, clean, and modern, so we jumped on the opportunity to have her visit.
Despite the short notice, it was a wonderful event, and we're happy to share the fun with you. Click here to see

Brigitte's Trunk Show!
Rest assured, since Brigitte has promised to come back to teach a class for us, we'll hold her to it. We can't wait to introduce her to a wider audience!

GUDRUN ERLA'S VISIT! [April 2014]
When Minnesota pattern designer and author, Gudrun Erla helped us celebrate our tenth anniversary weekend, we took loads of pictures so you can see what you missed (if you weren't there) or what you did (if you were there).

Here are the pix, including those of Gudrun doing the "Quilt-Makers Shuffle", from the Camelot workshops,

Strip Club and Quilt As You Go!



Here are the ones from her fabulous

Trunk Show

at the store.

ANNIVERSARY QUILT SURPRISE! [April 2014]
This absolutely blew us away!
Amy managed to make a spectacular memory quilt of our first ten years, right under our noses, and kept it a total secret (Val lives with her, and still didn't know that anything was going on!). Then Valerie tackled the quilting, doing a beautiful job, and we still didn't twig. Take a look at the big reveal, then come in to take a look at the quilt (it's hanging in the classroom). It is amazing, and a wonderful trip down memory lane.
Thank you, Amy and Valerie -- we will treasure this quilt forever. And we'll have to stay in business forever, too, because otherwise we'll be fighting over who gets to keep the quilt!

KATHY WYLIE'S VISIT! [April 2014]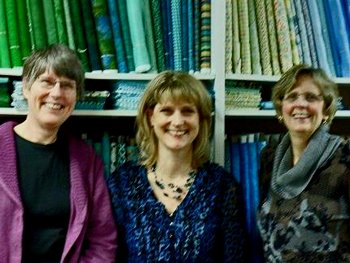 We were so very happy that Kathy Wylie, our home-grown award-winning quilter and C&T author, could join us for our anniversary month! She taught her Peek-A-Boo Appliqué class to a very enthusiastic audience -- watch for this technique to pop up on many of our customers' quilts in the very near future!



CAMELOT IN-TOWN RETREAT! [March 2014]


The 2014 version of our In-Town Retreat was a resounding success, with the "QP League of Power Quilters" showing off their super skills!
Take a look at our souvenir photos!

AMONG BRENDA'S QUILTS AND BAGS! [January 2014]
Pattern designer Brenda Miller's visit was a real treat and a great way to kick off our tenth anniversary celebrations. Her evening trunk show gave us an entertaining and inspirational tour of her life in the quilting business and her all-day Stop and Go class gave us a chance to stretch our own creative muscles. You can see some of the results here – for more pictures, take a look at
our facebook page!

IT'S A PRINCE! [July 2013]
Congratulations to Will and Kate on the birth of their son on July 22! We wish them all the best as they start their new adventure in parenthood.

Our Royal Baby Shower was a royal success! Not only did we enjoy deliciously dainty treats and lemonade, we collected 136 cuddle quilts, 6 sweater sets, and 5 preemie caps for the Centre familiale de naissance at the Montfort Hospital, plus $145 for baby supplies for the Gloucester Emergency Food Cupboard! We are overwhelmed by your generosity, and thank you most sincerely for the lovely shower gifts. We hope you had a good time at the party!

We will continue to collect cuddle quilts for the Montfort. If you've never made one before, a word of explanation: These are small baby quilts that are placed in the neonatal incubators and bassinets, so the size is restricted to between 18" x 18" and 24" x 24". Their small size also makes them perfect for testing block patterns, busting your stash, and practicing free-motion quilting. Keeping in mind the intended recipients are newborns, please aim for cute and cheerful, using only 100% cotton or flannel in the top and backing, and 100% cotton thread for the construction and quilting. Cuddle quilts are typically sent home with the babies who use them, so there is a constant demand for them. Your donations will be gratefully appreciated!

But wait! There's more! Amy documented the occasion and posted the photos she took on our Facebook page! (A new window will open.)


YES, WE ARE ALL PIPING HOTTIES! [April 2013]

And we have the buttons to prove it!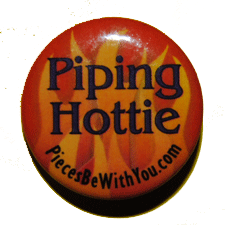 Susan Cleveland, of course, is the original "Piping Hottie", a real ball of fire from Minnesota. She's an award-winning quilter, author and product designer, and we were lucky enough to have her visit with her Eclectic Quilt Parade trunk show and all-day Piping Hot Curves workshop. We promised that she would be fun and upbeat, and she did not fail to deliver – everybody who attended her events had a blast. And we can pretty well guarantee that we'll be seeing a lot more piping on quilts from now on!
Susan is incredible, full of pep and non-stop good humour. Her stories are hilarious (she could easily start a second career as a stand-up comedienne), but it's her generosity in sharing her innovative techniques, along with her first-rate teaching style, that made her visit so memorable. That, and the buttons!
Here are some pictures of both events. Rest assured, we've made Susan promise that she'll come back for a return engagement. We just hope it won't take another three years to get her here!




CAMELOT RETREAT! [March 2013]


Once again, we had a fantastic weekend at Camelot. We sewed, we ate, we laughed, and we can't wait to do it again next year!
Count the smiles on this year's photo gallery page – maybe next year we'll see your picture here!


WORLD WIDE QUILTING DAY! [March 16, 2013]


Our Strip Quilt Race Challenge on March 16, 2013 was a great success! Our team of seven strippers showed up game-ready and prepared to rumble (one had even made a whole practice quilt the night before, as a pre-race warm-up!).

POSITIVE
FEEDBACK!


We were very happy to receive the following lovely warm email on a chilly winter's day!
Friday January 4, 2013

Good morning,


I simply wanted to give your store some positive feedback. I went in on Monday to purchase a sewing machine and I was quite pleased with the service I got. I am on the younger side and have never sewed before. I was a little intimidated by the machines, however, Tamara was wonderful, she made me feel comfortable and was extremely helpful in explaining the different terms used regarding sewing without making me feel like the rookie that I am. I walked away very excited to begin my sewing journey.

While I was in the store, I felt there was a true sense of community, one of the customer service representatives at the store last everning was also really friendly when I went in to pick up my new toy :) . She made sure to remind me about the free training session you give to ensure I get the most out of my machine.

I am now looking forward to get to know my new machine and to spend some more time with your team to learn the ins and outs of my Pfaff as well as quilting.

My most sincere thanks,

Valérie O.

New Pfaff owner



SEWING ADVICE!

This excerpt from a Singer sewing machine manual, circa 1949, has been posted on the interweb recently and, while the advice is sound and valuable, we felt it needed a little updating to make it more relevant to today's modern sewist (that's the new term referring to those of us who sew – there's another update for you, free of charge).

We've included the original in its entirety (confession: we dolled it up a little, but we didn't change the words), then we've broken it down into its component parts for easier consumption.


CAMELOT RETREAT - 2012
"In short, there's simply not a more congenial spot for sewing everlastingly than here in Camelot"
That's maybe not exactly as Alan Jay Lerner wrote it, but even he would have to agree that it's true. Our 2012 In-Town Retreat was a blast – we sewed, ate, laughed, sewed, and repeated as necessary. Add a little wine and some fabulous wait staff, and you'll get a pretty good idea of the fun we had.
Here's the official portrait of the class of '12 – one of the reasons everyone looks so happy (apart from just having enjoyed a fabulous weekend) is because a cute young guy is behind the camera.

CARMEL BAG AND CRAZY STOCKINGS!
Val had to step in at the last minute to teach the Carmel Bag class when Sherrill broke her hip. Everything went fine until she put her interior pockets on upside-down. Still, in spite of the teacher, the bags turned out pretty well. We're happy to report that Sherrill has since mended very nicely and is back in our classroom, to everyone's relief.















Things went much more smoothly in the Crazy Quilted Christmas Stocking class, which is good – an upside-down stocking would let everything fall out!


UNITED WAY TIE QUILT AND LUNCH ON A ROLL!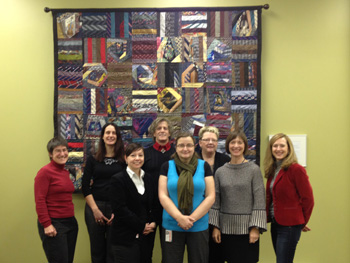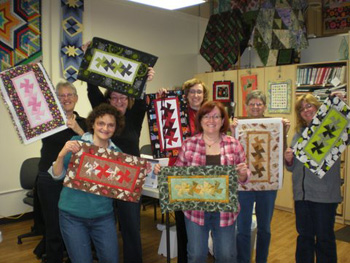 In September 2011, Monique Léger contacted us about a United Way fundraising effort she was spearheading at the Department of Canadian Heritage. Here's part of her letter:
"We are a group of ten or so public servant "quilters" who are working on a Department wide project: Tie Quilt Project. The Department of Canadian Heritage has over 3000 employees. We wanted to engage in a community project whereby anyone could come and learn the art of quilting and collaborate on a creative project. In May we started our project with 141 donated ties! We are now at the assembly stage of putting together the 56 crazy quilt squares and the more conventional rectangle squares."
And then in February 2012, she sent the picture of her team with their finished project . Well done, everyone! We hope you raised a "tie-dy" sum for the United Way!
On the right, we have the "Lunch on a Roll with a Twist" class. As the teacher, Marie-Claire says, "The workshop on Saturday went very well. My "students" were great and as you can see in the picture, they have succeeded and were all very proud!!!"
We think they succeeded very well – and now they'll be dining in fine style!

PEACE BY PIECE CHALLENGE!
We were thrilled with the entries for our "Peace by Piece" quilt challenge! Some very talented people submitted some spectacular pieces to be included in the "Peace by Piece" quilt show. In case you missed the particulars, the rules were easy: create a little quilt (maximum outside dimension 24") that depicts the theme of "Peace". During the show (October 14 & 15, 2011, St Andrew's United Church, Cumberland), "Peaceful Walk in the Woods" was named the winning quilt. The Viewer's Choice award, a QP gift card worth $100, went to Carol Marshall!


FIVE MINUTES OF FAME (AND FIREFIGHTERS)!
On Friday, September 22, 2011, Ottawa's CTV Morning Live broadcast from the world-famous Orleans Roundabout as part of their "Live From Where You Live" series, and Quilty Pleasures was featured as one of the local businesses located in the Heart of Orleans. Host Lianne Laing took excellent care of us and the whole experience was a lot of fun, especially the part where the Great Boys of Fire (studly Ottawa firefighters) made an appearance to promote their calendar – it's hot stuff, and it's all for a great cause. All proceeds (plus a very generous 500% matching donation from the government!) are going to the Queensway Carlton Hospital, so naturally we had to buy a couple. It's important to know which month it is, and those boys are there to help!

NO, THANK
YOU!













We have some of the nicest customers in the world, and every once in a while they do things that remind us again how lucky we are to be in this business. Thank you, Linda, for totally making our day with this gorgeous bouquet. It's a (quilty) pleasure to come to work every day!


COUNTRY BEGINNINGS SHOP HOP 2011!

Once again, it was a fantastic shop hop! We had a great time seeing everybody else having a great time, and are very pleased to announce the following grand prize winners:
Diane Brulé (Pictured with her Elna EL2800 Sewing Machine, donated by Quilty Pleasures), Rosemary Adams (Go! Fabric Cutter, donated by The Quilting Quarters), Judy Reid (Pictured with her certificate for Machine Quilting donated by Karine Chapleau of Karine's Quilting Touch), Marilyn Flint (Machine Quilting donated by Dianne Gale of That Crazy Sew n Sew).











As well, $50 gift certificates (two from each of the participating shops) were won by Penny O'Brien and Carolyn Buchanan (Sew Inspired), Lynn Mittlestead and Katrina Lalande (Textile Traditions), Pat Rowan and Pam Gill (The Quilting Quarters), Victoria Hitching and Pat Trottier (The Country Quilter), Nicole Lemieux and Nellie Van de Ven (Flair with Fabrics), Judy Simser and Anne Cruickshank (Dragonfly Fabrics), Sandra Adamson and Marilyn Lemieux (Aunt Beth's Quiltworld) and Suzanne Sterling and Diana Murray (Quilty Pleasures).


WE WERE THERE!


The 2011 Spring International Quilt Market, held in Salt Lake City in mid-May, was an awesome experience. This is a huge market, populated with vendors of all things quilty: fabric, patterns, notions, sewing machines, threads, gizmos and gadgets. The trends? Slightly smaller scale prints, pretty ice-cream and candy colours, retro designs with a modern twist, adorable clothing, toys and accessories for little kids, and some really innovative rulers and notions (more on these later – once our orders arrive, we'll be hosting a demo event on the latest and greatest).
Just to give you an idea of the size of Quilt Market, here is a picture of us taken from the upper level – we're standing near the entrance, surrounded by 29 aisles of merchandise. That's Leslie on the left, we think, so that must be Val on the right. Or maybe it's the other way around. Hard to tell from this distance.








THE HONOUR OF YOUR PRESENCE!
Everybody had a royally good time at our Royal Wedding Tea on April 29, 2011! Our guests dressed in their regal best to fête the newly wed Duke and Duchess of Cambridge with cucumber sandwiches, scones, cookies, and gallons and gallons of tea – Burtch, our butler extraordinaire, was kept very busy keeping the pot full of the restorative brew.


QUILTY PLEASURES CELEBRATED ON DANCING WITH THE STARS!
Did you see it? ABC's Dancing With the Stars dedicated their April 25th show to Quilty Pleasures! True, there was a little typo in their mega-watt sign, but we know what they meant – Quilty Pleasures is indeed the quilt shop of the stars!


HUNTER AND EMMA HELP MOM QUILT!
You may recall that Quilty Pleasures was visited at last fall's Shop Hop by our two youngest quilters – baby Hunter, 17 days old and baby Charlie, just 13
days! (You can see our item below on this page.)
Well, since then we got the following delightful email!


Hi there!
I was told that a photo of me and my baby Hunter was on your website. Very cool! I just saw it. Hunter was so little there! I thought I would pass along a photo of Hunter with his 1st quilt I made for him. My daughter Emma is also quilting with me. My Emma is now 6 but she was 5 in that photo. We were making a quilt for our aunt. She chose all the fabrics herself.