As quilters, we often like to get together and share useful (and even not so useful) information. That's the intent of our

Tips &

Apps

page. Here we will try to bring you advice and electronic helpers. If you, from time to time, have something you think would be a helpful addition, send us an email. This is where your Tips and Apps are properly exposed!




SCHMETZ HOUSEHOLD NEEDLES APP!
(Like having the ABC Pocket Guide on your phone!)


The Schmetz App is available in both iOs and Android versions. Based on the ever popular Schmetz ABC Pocket Guide, this app provides a comprehensive reference to Schmetz needles for household sewing machines. Includes updated color code information.

This app helps you choose the correct needle for your sewing application. Increase your sewing skill by learning about the various types of needles available. Learn to spot the signs that it might be time to change your sewing machine needle. Use this app to sew better with SCHMETZ!



RELIEVING THE TENSION HEADACHE!


Here's a very helpful video from
Sewing with Steve
that tells you how to adjust the tension on your machine.
(If you feel you need to make a comment, as he suggests at the end of his tutorial, click "YouTube" at the bottom of the frame.)
PS We recommend you avoid adjusting the bottom tension. If you want to play with your bobbin tension (for free-motion quilting or bobbin work, for example), we suggest you buy a separate bobbin case for that purpose and leave the original at factory settings.

Sewing Machine Needles Don't Last Forever.

The needle is not a permanent machine part.

Needles get dull from use. Needles are meant to be changed.


Clue it's Time to Change the Needle

- Damaged or broken threads -

- Skipped stitches -

- Puckered or damaged fabrics -

- Wiggly squiggly seams -

- Popping, clicking or clunking sound -


SERGER NEEDLES



PALETTEBUILDER 2




Do you have trouble finding the perfect solids for your projects? Try Palette Builder -- it's a great new app that identifies the colours from an image and matches them to either Bella Solids or Kona Solids fabric. So now you can build a quilt to accurately coordinate with your living room (take a look at That Patchwork Place's book Zen Chic Inspired, by Brigitte Heitland, for ideas. It's brilliant!) Or make a quilt to match your car, or your cat. The possibilities are endless.

TRANSLATING YOUR NEEDLE PACKAGE


SCHMETZ NEEDLES INSTRUCTION VIDEOS!

(For a larger view, click the 'Full Screen Mode' symbol shown at bottom-right of the video display. This will also overcome distortion found on some compact phones.)

#1 - Needle Basics
#2 - Needle Anatomy
#3 - How to Read the Needle Package
#4 - Needle Selection
(See "Needle Little More Help" below for a link to the mentioned app.)
#5 - Change the Needle

#6 - Needle Q and A
A CAUTIONARY TALE!
We're not pointing fingers or anything, but we thought you'd like to see this ... .

A customer came in recently and complained that her machine was making a lot of noise during operation. When our technician opened it up, this is what he found. While this is an extreme case, there is a lesson to be learned.

Guck can and will build up in the bobbin area of your machine. Accumulated lint and dust can impede the smooth operation of your machine, causing noise (a minor irritation), feeding issues (not only annoying, but negatively affecting your finished product), and bobbin case/hook damage (potentially very expensive). Flannel, micro-fibres, and poor quality threads are big culprits, but any sewing will leave some residue behind.

The moral of the story: Clean your machine after every project, and sometimes even more often. Use a lint brush, soft dry cloth, and/or mini-vac to extract the dirt; do not blow it out with canned air, or you risk pushing it further into the machine. Oil your machine only if your manual tells you to do so, keep it covered between uses, and bring it in for a tune-up every year or so.



FOOT ANATOMY!
This may not be as sexy as your grade nine biology textbook but it's just as informative: If you look below, you'll find some PFAFF feet and how to align them without tripping yourself up.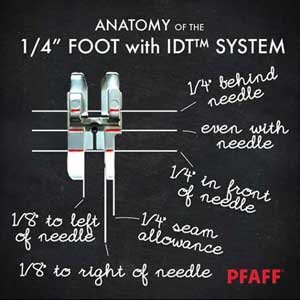 SCHMETZ NEEDLE ANATOMY!

SCHMETZ COLOUR CODE CHART!



At last ... easy to identify SCHMETZ needles! Most needles now have two bands of color - the top band to identify needle type and the lower band to identify size. The Universal needle has just one band of color for size. Yahoo!

You can find a handy, printable 8½ x 11 size PDF chart here or

a handy, printable 4 x 6 size postcard chart (Avery 5389) here.

INSPIRED TO SEW DIGITAL MAGAZINE!


Inspired to SEW digital magazine is about that moment of inspiration. What inspires you to sew? Does it happen when you are looking for a special gift? When a new baby is born? When you need a unique outfit? Maybe you were inspired to sew by a class you took or a blog you read? Something you experienced on a vacation? Maybe you saw something on Pinterest?

Inspired to SEW features interviews with sewing stars, fabric designers, authors, teachers, sewing enthusiasts and bloggers from around the world — sharing their behind-the-curtain moments of muse.

Take a look at the latest issue!

You can also browse back issues.

BACKS FROM FATS!


Have a pile of fat quarters that's out of control? Need backings for quilts? Solve both problems by piecing your backings from your stash!
For the purposes of this exercise, we're squaring each fat quarter to measure 19" x 19". This allows for fats that weren't cut accurately, or were cut from yards rather than metres, or were washed before use. Then they are sewn together with ¼" seams to give the following sizes:

| | | |
| --- | --- | --- |
| FINISHED SIZE | NUMBER OF FAT QUARTERS | LAYOUT |
| 37-1/2" X 37-1/2" | 4 | 2 X 2 |
| 37-1/2" X 56" | 6 | 2 X 3 |
| 56" X 56" | 9 | 3 X 3 |
| 56" X 74-1/2" | 12 | 3 X 4 |
| 74-1/2" X 74-1/2" | 16 | 4 X 4 |
| 74-1/2" X 93" | 20 | 4 X 5 |
| 93" X 93" | 25 | 5 X 5 |
| 93" X 111-1/2" | 30 | 5 X 6 |
| 111-1/2" X 111-1/2" | 36 | 6 X 6 |
Not only will this save you money and reduce your stash of fats, it will add extra interest to your quilt backs. Win – Win – Win!



SEWING MACHINE 101!

Note: Every sewing machine comes with a manual that explains the parts of the machine, threading instructions, how to choose and adjust stitches, proper foot selection, etc. Many also contain sewing techniques. Make sure you read your manual thoroughly and keep it handy for reference. If something doesn't make sense, ask us for clarification – it will save you a lot of frustration later!

Meanwhile, we bring you the Quilty Pleasures helpful guide to a few things every sewist should know. Follow this link to QP's Sewing Machine 101!

(It'll open in a new window. We'll wait here!)








ONE BLOCK WONDER DESIGN HELPER!


If you've gotten hooked on the One Block Wonder technique, you know how exciting it is to turn one single fabric into a multitude of complex kaleidoscopic designs. But sometimes (ie, often) it's hard to imagine how that fabric will translate.

Well, help is at hand! Just visit the One Block Wonder web site, take a picture of your fabric, and see how it will look as an OBW quilt.
Just visit: http://oneblockwonder.com/design-helper/. All the guesswork is gone and you can get on with making the magic happen!


PFAFF EMBROIDERY ART IPHONE APP!


View embroidery designs right on your phone! Change the thread to any of over 15,000 threads to instantly see the embroidery design with your color choices!

Instantly link to MyEmbroideries.com to purchase the designs featured on Embroidery Art!

How to use Embroidery Art:
1. In the design listing, select the design you want to view
2. Click on one of the thread colors below the design to view the specific thread being used and change it to one of over 15,000 threads
3. That's it! You can now view the design using your exact choices! Your choices are saved so you can always refer back to the threads you need to stitch out your creation.

Download Embroidery Art in the Apple App Store for FREE!


JANOME VIDEO INSTRUCTIONS AT YOUR FINGERTIPS!
Janome

has a cool web app for your mobile device, whether it runs Apple iOS or Android! The

Janome Videos

app gives you access to over 100 machine accessory videos. Each video details the proper use and application of sewing machine feet and accessories.

Even if you don't have a smartphone,

you can still watch the videos using your computer.

In either case,

this link

will take you to the videos. Your phone, of course, will have a facility of one kind or another to add an icon on its desktop so you can instantly connect to the video library.


Android phones differ, but if your operating system is Chrome, you're probably familiar with the three vertical dots circled here which you click to add the icon.


If you have an Apple phone, you'll recognize the square and arrow icon shown here, which appears at the bottom of the screen and allows you to add the icon.


NEEDLE LITTLE HELP!

Needles can be confusing. What are the different types of needles? Which ones should be used on which projects? Does size really matter?
Robert Kaufman has come up with this little number (no pun intended, but it's a good one!) that does the math for you!